Amazon Cloud Cam Review: It's Reliable & Has a Great Free Plan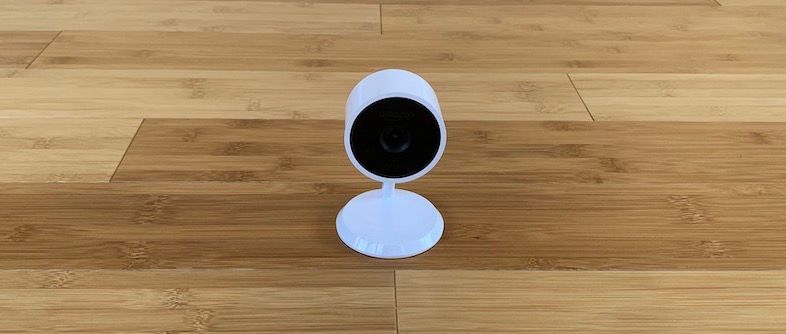 Free Service (A+):
If you don't want to pay for a subscription, Amazon is the way to go as it provides more essential features for free. Nest's free offerings are useless.
When Amazon Cloud Cam detects motion, it starts recording and saves the clip. It'll continue recording until there's no more action. I put my Cloud Cam on my porch, where there's constant traffic throughout the day, on the medium sensitivity setting. In three weeks it never missed a clip, cut short or started late. But because it's not continuously recording, you need to keep in mind it could miss something.
Once clips are recorded, they're saved in the app and your Amazon Drive for 24 hours. If you don't want them deleted, you can save them to your phone's library or export them to your favorite file sharing service.
You can view a live feed whenever you want online or in the app.
Subscription Service (F):
There's not enough value to support the price of Amazon's cloud subscription, considering the free program is fantastic and provides everything most people will need. Here's what you get:
Longer video clip storage, instead of a 24-hour limit.
Person Detection: It can tell the difference between people and random motion from curtains, tree branches, etc., to avoid unnecessary notifications.
Zones: You can map out a zone on your screen of where you want to be notified of an event. If you only want to track a tiny area, you can eliminate spots that you don't care about and the unnecessary notifications.
Amazon has three different subscription plans:
Basic ($7/month): Storage for 7 days and supports up to three Amazon Cloud Cams.
Extended ($10/month): Storage for 14 days and supports up to five Amazon Cloud Cams.
Pro ($30/month): Storage for 30 days and supports up to 10 Amazon Cloud Cams.
Software (A):
It's easy to set up and pair Cloud Cam with your phone. You just download the Cloud Cam app and click the add button.
By default, Cloud Cam records all motion and sound, but you can set it up to record on a schedule. For instance, if you only care about tracking one specific thing (i.e., your kids coming home from school), you can designate that particular block of time and the system will be dormant the rest of the day.
The notifications are pushed to your phone at the same time as it captures the motion. If you're quick enough, you can tap the notification when it happens and see what's going on.
My favorite capability is having the camera automatically turn off when my phone is in the same location. It eliminates unnecessary notifications.
You can adjust the motion sensitivity. I found the medium setting was perfect, detecting motion up to 10 feet away, but if you want high sensitivity, you can increase it to 20 feet.
There's an online interface for live look-ins or checking previously recorded clips.
Amazon Cloud Cam works with the Amazon Key program. If you have a Yale, Schlage, or Kwikset smart lock, you can give your delivery man an access code to safely deliver packages inside your house.
If you have the Echo Spot or Echo Show, you can view the live stream at any time. If you have a Fire TV device, you can watch the stream on your TV, by saying "Alexa, show me [insert camera's name]." You can also get alerts on your Echo devices.
It doesn't work with Siri or Google Assistant or IFTTT. If you want to do an automation or integration with your other smart devices, you'll have to set it up with "Routines" in the Alexa app. For example, you can create a routine to play music, turn on the lights, or read a spoken message across your Alexa device when motion is detected.
The two-way communication works much better than Nest.
Audio & Video (C):
It records video in 1080p HD with a 120-degree field of view. Just like Nest, it has 8x digital zoom.
Amazon's video quality wasn't consistently as crisp as Nest, but it was always clear enough. You're not posting these clips online, so I'm not sure how much the quality matters.
The night vision looks better than it does with Nest if you have a pitch black situation. Just like Nest, you lose color on the video when it's in night mode.
Cloud Cam goes into night vision mode more easily, so you'll lose color even when there's still decent lighting.
The speaker quality is much better than Nest's.
Design (D):
It's made of cheap plastic materials.
The camera doesn't detach from the base, but you have about 45 degrees to play with for the angle. The plastic rod that holds the camera, feels like it could break at any time. If you drop this camera, there's a good chance it's breaking.
The base is white and the camera is black. It's not going to blend in with your house, but that probably isn't a deal-breaker for most.
It has a standard micro USB port for power.
Quick Review (TL;DR)
Free: The free plan stores recorded clips for 24 hours, and you can easily export them.
Subscription: It's $7/month for 7 days of storage, zone, and person detection, but no option for 24/7 recording.
Software: It works well across the Alexa and Fire TV lineup, but there's no compatibility outside of that.
Quality: The video quality is solid, but the night vision turns on too quickly as soon as the sun starts to set.
Design: It's cheaply made, and the stand can't angle as widely as Nest.
Who is this for?
Amazon Cloud Cam is best for you if you want an affordable system that reliably records all motion and saves clips for 24 hours for free. Another significant benefit is that Cloud Cam provides instant phone notifications, while Nest's are delayed.