JBL Charge 4 Review: My Favorite Bluetooth Speaker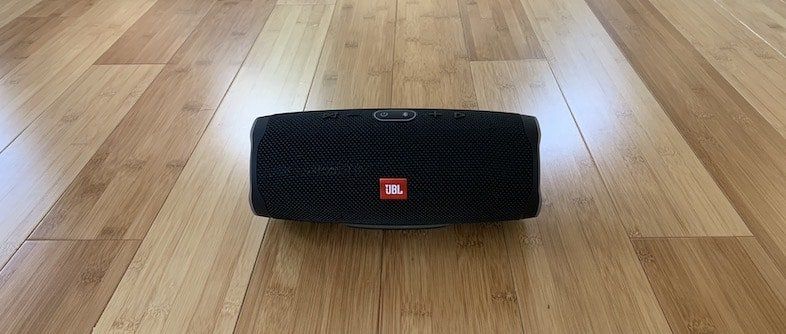 After weeks of testing, I determined JBL Charge 4 is the best portable speaker option for most people because of its great sound quality, long battery life, and good bang for the buck.
Sound: A-
Charge 4 is an amazing speaker for this form factor. It has a brilliant sound that offers a deeper bass at all volume levels with better depth than other speakers. You won't beat it for $150.
Charge 4 offers one-directional sound, and there's only one driver. It sounds best when there's a wall for the sound to reflect off of.
You need to be in front of the speaker for optimal listening. Although it'll be fine outdoors, it's not ideal because it's not omnidirectional.
Overall, the sound is brilliant, crisp and deep as long as the volume stays in the 60% range. While under 60%, it has the perfect balance of low, high, and mids, but the highs get screechy above 70%.
You're stuck listening to music the way JBL intended because you can't customize the sound, but this isn't a bad thing.
It doesn't have as much bass as Megaboom 3, but Charge 4's bass stays stable the whole time, whereas, Megaboom 3 gets too boomy at louder levels.
Compared to UE Boom 3, it has a better bass and is much richer and louder. Charge 4's sound is closer to Megaboom 3 than Boom 3. Overall, it's a brilliant-sounding speaker and provides fantastic value at $150.
Design: B-
It weighs 2.1 pounds and is 8.7 inches long. It's still small enough that it can be held in one hand.
It looks not the best looking, but at least it has a base to sit on (relative to Flip 4).
It comes in 10 different colors (Black, Blue, Forest Green, Grey, Pink, Red, Sand, Teal, and White), but the colors are plain and not overly appealing.
The port cover is perfect. It stays latched (for waterproofing), but it's easy to open. This is something that Flip 4 could learn from its big brother.
You can plug in your old school devices because there's a 3.5mm port.
Durability: B+
It's waterproof (IPX7 rating). It can be submerged in water for up to 30 minutes.
While it's waterproof, you have to let it air out if it gets wet because the water gets in between the radiators on the sides and makes the sound muffled.
It's not listed as shockproof, but it's going to withstand normal drops.
It'll float in water.
Power: A+
The battery is impressive for its size and loudness delivered. It's rated for 20 hours of playback and takes four hours to recharge. My real world tests:
8.5 hours with 60% volume.
6.5 hours with 85% volume.
It works as a portable phone charger with its 7,500-mAh battery USB port.
It recharges with USB-C and it takes around four hours.
Software: D+
The JBL software serves no purpose and should be avoided. There are no benefits, it's hard to connect, and the interface runs off of the screen.
You can keep it paired to two different devices at the same time.
You can pair Charge 4 with other JBL speakers.
JBL Connect+ works well by pressing the Connect+ button on each speaker that you want to be paired. The connect is stable compared to most Bluetooth connections.
There's no way to activate your phone's voice assistant because there's no mic, but this function doesn't work well on most portable speakers anyways.
It gets an extra five feet of Bluetooth range, and the Bluetooth seems more reliable than SoundLink Color II.
Who is this for?
Get JBL Charge 4 if you want the best sounding speaker at this size and an extra two hours of battery at 60% volume. It has one-directional sound, but it isn't terrible outside. It can't charge wirelessly.
Get JBL Charge 3 for $50 less. It sounds similar to Charge 4 and is an incredible value.