UE Boom 3 Review: It's Fine But Definitely Overpriced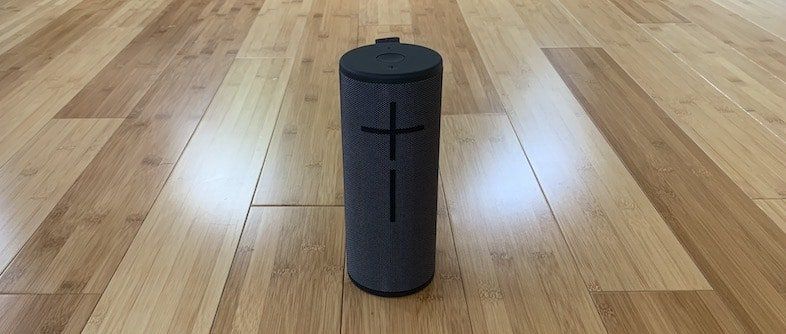 UE Boom 3 has crisp and omnidirectional sound with the best design on the market, but it lacks the depth and richness of Charge.
Sound: C-
It has two drivers and two passive radiators.
UE Boom 3's biggest advantage is that it delivers 360° sound, which makes it a nice option for outdoor use and large gatherings.
There are four preset equalizer options, but you can customize the bass, mids, and treble to any level.
Boom 3 stays well-balanced and is solid for its size. It has a more prominent bass than Flip 4, but the sound and bass can't compete with higher-end speakers like Megaboom 3 or JBL Charge 4.
While listening to Boom 3 alone, I don't hate it, but when I play it side by side with Charge 4, it sounds a bit like a tin can.
Design: A+
It weighs 1.3 pounds and is 7.2 inches tall. It's noticeably smaller and lighter than Charge 4, but this isn't a dealbreaker.
There are four colors (Lagoon Blue, Nightblack, Sunset Red, Ultraviolet Purple), but there are more set to be released in the future. The Ultimate Ears colors with their two-toned fabric are more visually interesting than the boring colors of JBL.
Boom 2's design was great, but there were three major issues which were all fixed with Boom 3:
The charging port was on the bottom, making it difficult to charge and listen simultaneously. Now, the port has been moved to the side or it can be charged wirelessly with the base.
You had to use gestures by picking up the speaker and hitting it sideways to pause and skip songs, now there's a "Magic Button" to do play, pause and skip.
There was an ugly rubber strip down the middle. Now it's gone and features a more minimalistic design. Everything about the design looks phenomenal!
There's no 3.5mm port.
To find out the battery life, hit the "+" and "-" at the same time for a verbal callout of the volume percentage.
Durability: A+
It has an IP67 rating, meaning it's entirely waterproof (up to a meter of water for 30 minutes), like last year's version, but it's also dustproof.
UE speakers are more durable than JBL. Accidental drops won't be an issue with either speaker, but there are no exposed radiators on Boom 3 and it's rated as "drop proof" from five feet.
It'll float back up when you drop it in water. This could be a deciding factor if you plan to bring it on a boat.
Power: B
Ultimate Ears lists 15 hours of playback time, but I can't figure out where they got that. Did they test while at 1% volume? My real world tests:
6 hours with 60% volume.
3.5 hours with 85% volume.
UE's $40 charging base is worth every penny. It's awesome to have your speaker run off power while in the house, then when you're ready to leave it's at 100% battery. It takes the thinking out of power management.
Software: A-
Ultimate Ears simplified things and made one app for all UE speakers. It's a brilliant app.
With "Block Party," you can connect three phones to one speaker, and three people take turns playing music.
With "Party Up," you can pair up to 150 UE speakers together and make them play duplicate sound or create a stereo pair. This works well sometimes, but I wouldn't count on it. Like anything that relies on Bluetooth for multiple connections, it can be shaky.
It uses Bluetooth 4.2 and be paired with two devices at once. The curious thing is that the Bluetooth range is listed at 150 feet, but in reality, the range is the worse than that.
The firmware is updated frequently. It's great that UE is continually improving the product and didn't call it quits after the release.
You can power it on and off via the app.
Lots of people don't like the "power on sounds" of portable speakers. UE lets you turn those off, while JBL doesn't.
There's isn't a button to activate your phone's assistant (e.g., Google, Siri, Alexa, etc.) because there's no mic. This means no speakerphone either, but these are worthwhile sacrifices from last year's version.
You can preload four Apple Music playlists and have them play by holding the Magic Button for two seconds. The music plays, and you don't touch your phone.
Who is this for?
Get UE Boom 3 if you value design and wireless charging more than the sound quality, volume and battery life. Even with its omnidirectional sound, it can't compete with the richness and smooth bass of JBL Charge 4.
I prefer JBL Flip 4 sound profile too.