Apple Watch Series 3 vs. SE: Is the SE worth an extra $80?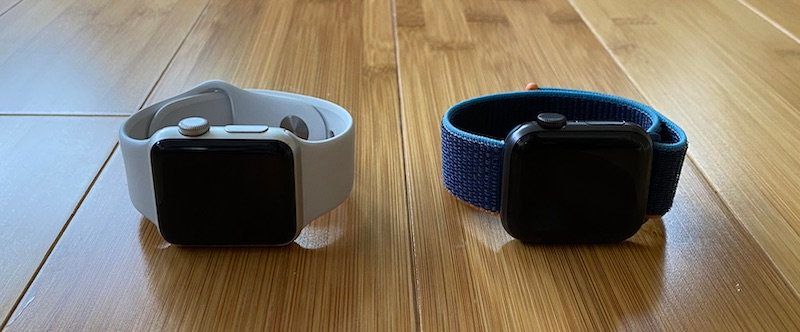 After three weeks of double-wristing Apple Watches (Series 3 and SE), and five years of wearing Apple Watch daily, I determined that Apple Watch SE is the best due to its superior display, speed, and the option to add cellular service.
Apple Watch Series 3 is a solid device for those who want the same basic functionality for less, but it has limited color options and a small screen.
If you've never owned an Apple Watch, I recommend my Apple Watch Basics post before reading this comparison to get you up to speed.
Want to learn how I reached this conclusion? Read on to see the detailed breakdown of hardware, unique features, and design that informed my overall impression.
Screen
Series 3
Summary: Series 3's screen is the same size as the original Apple Watch, which is smaller than the newer Apple Watch models. The screen size is perfect if you've never owned an Apple Watch, but once you experience the larger display, it feels like there's tons of wasted space on Series 3.
Downsides of the smaller screen:
As a daily Apple Watch wearer, I never had an issue with the Series 3's screen size.
Now, when I go back to using Series 3, I have a harder time quickly glancing down to find the information I need.
Screen: SE
Summary: The SE and Series 3 have the same case size, but the SE's screen is 30% larger. The larger screen makes the fonts easier to read, and it adds extra room for more advanced watch faces.
Benefits of the larger screen:
The size of the watch is the same, but the amount of dead space (the bezel) has been reduced.
The fonts are larger and clearer, which is great when your full focus can't be on your watch, like during exercise. You may find the larger fonts helpful if you have vision issues.
More information can fit on the watch faces. For example, the infograph faces are my favorite, but they're not available on Series 3 because there's not enough room.
Personal experience: Should you upgrade to the SE if you're an owner of Series 3? The Series 4 was the first Apple Watch to get a larger screen. At the time, it felt like a massive upgrade. Once I had the bigger screen, I hated using the models with a small screen. But is it a necessary upgrade or worth the money if you're satisfied with your Series 3? Probably not.
Specs
Series 3
Summary: Apple Watch Series 3 was the first Apple Watch that worked, as intended, without serious lag. While it's not as fast as the SE, it can handle any task that you throw at it. The battery life doesn't match the SE, but it has more than enough to get through a whole day.
Battery:
Apple lists an 18-hour battery runtime (same as SE).
I averaged 27 hours of runtime while on watchOS 7.
My 27-hour sessions included: two one-hour-long workouts, daily notifications, and eight hours of sleep tracking.
You should get through a whole day no matter how you use it.
Processor:
Series 3 has Apple's S3 processor.
Series 3 was Apple Watch's tipping point where its processor finally felt fast enough to perform tasks as expected.
When running the latest watchOS 7, Series 3 performs similarly to the newer Apple Watch models. Each new Apple Watch iteration gets faster, but it appears that software improvements are playing a larger role than the hardware.
However, during workouts, there can be a lag when swiping right to get to the music playback controller.
Some third-party apps open up slower.
It's more prone to freezing for a second, but this doesn't happen often.
Storage:
Series 3 includes 8 GB of storage (4.2 GB available). It's enough room for some music playlists, podcasts, and audiobooks, but probably not enough for your entire library of content.
Because new watchOS updates require storage, sometimes I'd have to delete my music and apps to download the latest software.
Personal experience: Apple Watch Series 3 was my favorite device from 2018. It was fast enough to properly function during all of its intended purposes, which wasn't true with previous generations. I would still be a happy daily wearer of Series 3 if the newer Apple Watch models didn't exist.
SE
Summary: Apple Watch SE has an improved processor that improves battery efficiency and makes processor-intensive tasks work smoother. Other noticeable improvements include four times the amount of storage and haptic feedback on the Digital Crown.
Battery:
Apple lists an 18-hour battery runtime.
I averaged 34 hours of battery with the non-cellular version of Apple Watch SE.
My 34-hour sessions included: two one-hour-long workouts, daily notifications, and eight hours of sleep tracking.
I've found you'll typically lose an extra 4% for each hour that your watch is connected to cellular.
Processor:
SE has the S5 processing chip. According to Apple, the S5 is up to two times faster than the S3 chip in Series 3.
You won't notice a huge speed difference between Series 3 and SE. Apple's stock apps and other activities launch and perform about the same.
You may see improved performance with certain third-party processor-intensive apps.
The Music app is the only Apple app that opens noticeably faster.
Siri understands and performs actions slightly faster, but it's not a huge jump.
I saw the biggest difference when trying to perform multiple tasks. For example, during a workout, when you swipe right to change the song, the process is always smooth on SE, while it can be inconsistent on Series 3.
Storage:
SE has 32 GB of storage (26.6 GB available). You can probably load most of your entire music library on your Apple Watch without needing to use your cellular data to stream music.
Other:
SE's Digital Crown has haptic feedback. As you scroll on the screen with the Digital Crown, you'll feel vibrations as you toggle through options. It doesn't sound like a special feature, but once you use an Apple Watch with haptic feedback, older Apple Watch models feel weird and dated.
The SE has a second-generation optical heart sensor, but in my experience, it doesn't prove to be more accurate or faster at reading. With both watches on my wrist, they almost always had the same reading. The difference between the new and old generation may be battery efficiency.
The SE has Apple's W3 wireless chip, which includes Bluetooth 5.0, but this upgrade wasn't apparent in real life. The Bluetooth connection between headphones and Apple Watch is as stable and quick as the W2 chip.
The speaker is noticeably louder and clearer, while the SE sounds muffled.
Features
Series 3
Summary: Series 3 is loaded with features, but it doesn't have unique features compared to the SE. It runs the same watchOS 7 as the SE, which includes heart rate monitoring, GPS, workout and sleep tracking, phone notifications, and Apple Pay.
Note: For some reason, the software updates take twice as long to download and install on Series 3 compared to the newer Apple Watch models.
Longevity: Series 3 was released in 2017 and has seen three major software updates. Apple products are known for staying relevant for a long time, but the Series 3 might be on its last software update. When Apple adds Series 3 to the obsolete list, it'll continue to work as intended, but you won't get the latest features.
SE
Summary: The SE's fall detection, noise monitoring, compass, and an always-on altimeter are notable upgrades from Series 3, but the ability to add cellular may be the most important. Another hidden advantage is that the SE should get new software updates for longer.
You can add cellular service to your watch for $15/month (plus an extra $50 for the specific cellular watch). Your iPhone and Apple Watch will share the same phone number. A cellular Apple Watch lets you leave your iPhone at home without totally going off the grid. It's great for dinner dates or times where you want to remain in the moment. I wrote a post about my favorite Apple Watch features and why I'm a huge fan of the cellular models.
It detects when you fall, then sounds an alarm and displays a message. If you're alert, you can tap to dismiss the message or contact emergency services. If you're immobile for one minute after the fall, it'll automatically call emergency services.
It has a compass that works without WiFi or cellular service
The always-on altimeter provides real-time elevation data. The SE's elevation changes as you step, while the Series 3 updates slowly. With the SE and Series 3 on my wrist, at the same time, I watched it happen live during a hike.
Apple Watch SE monitors the noise around you and will warn you when the decibel level rises to a point where your hearing could be affected.
Apple Watch's Family Setup lets iPhone users set up an Apple Watch for family members who don't have an iPhone, which should be great for young kids or grandparents.
Longevity: Because the SE has a 64-bit S5 chip and was released in 2020, it'll get at least three more years of major watchOS software updates.
Appearance
Series 3
Series 3 comes in two configurations. There's a silver aluminum with white sport band option and a space gray aluminum with black sport band option. All the Apple Watch bands are compatible with Series 3, but it'll cost an extra $50 to buy a color other than black or white separately.
SE
The SE comes in a silver and space gray aluminum finish and a gold aluminum not found on the Series 3. You get to choose between 29 different band options in the Sport Loop, Sport Band, Solo Loop, or the Braided Solo Loop styles. It's also noticeably thinner, but it's not an advantage.
Which is best for you?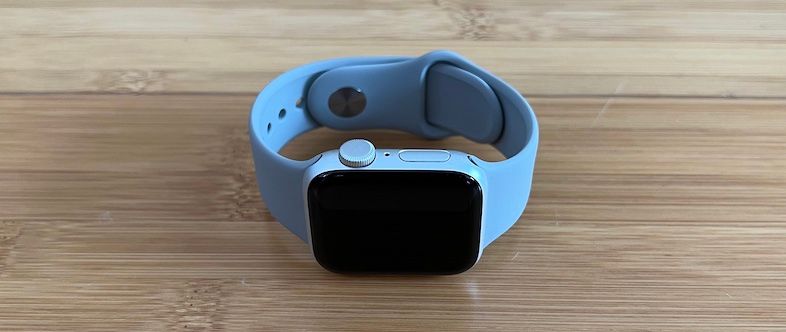 Hardware (A)
Features (B)
Appearance (C)
Get Apple Watch SE if you want a larger screen, more color options, or the option to add cellular. The improved speed, extra storage, better speaker, haptic feedback, and always-on altimeter are all minor improvements that combine to make Series 3 feel dated.
---
Hardware (C)
Features (B)
Appearance (D)
Get Apple Watch 3 if you're buying your first Apple Watch and want to save money. Black and white are the only band colors. Series 3 has most of the same features as the SE, but everything is less smooth. Series 3 gets the same software updates, but the SE will get updates for longer.