Eufy vs. Ring 1 (2nd Gen): Best Battery-Powered Option?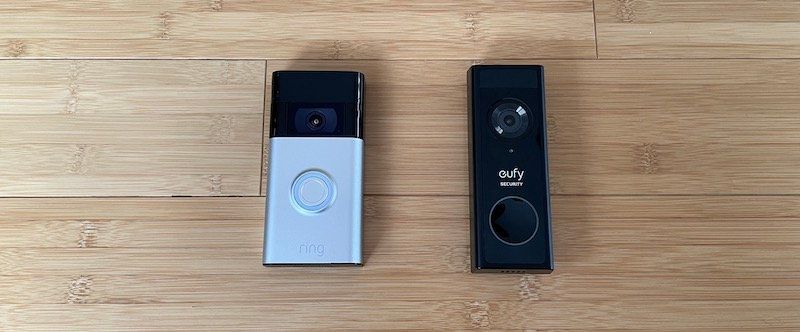 After a month of testing, I determined the battery-powered Eufy is the better video doorbell because it records motion for free and has better video quality.
Ring 1 (2020) has more reliable motion recording, but it'll set you back $3/month.
Want to learn how I reached this conclusion? Read on to see the detailed breakdown of user-friendliness, reliability, and design that informed my overall impression.
Setup
Ring 1
Ring 1 is battery-powered, but it has a spot for doorbell wires. The doorbell wires will keep the battery charged, but the wires aren't necessary.
Ring 1 doesn't require a bridge or chime to operate, which means fewer steps and a quicker installation. However, Ring Chime can be bundled with Ring 1 for an extra $20.
Eufy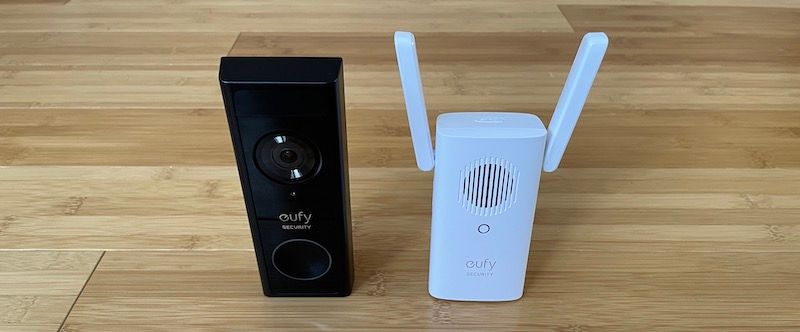 The battery-powered Eufy doesn't have a hook-up to use your pre-existing doorbell wires. If you have doorbell wires, I recommended one of Eufy's powered options instead.
Eufy comes with an indoor chime, which acts as a WiFi bridge and it's where the MicroSD card is stored.
During setup, the chime gets plugged into an outlet near the door and syncs with the app. Once the chime is installed, the doorbell gets synced inside the app.
It took me about 15 minutes to get the chime and doorbell set up and on the latest firmware.
---
Subscription
Ring 1
Ring requires a $3/month subscription plan to record and store all motion in front of your door.
Without the subscription, Ring alerts you when someone is at the door, but nothing gets recorded. If you're not on your phone at the time of the alert, you'll never see who was at the door. You won't get human-only mode either, which means lots of extra notifications, especially if it's facing a street.
Video calls are always free. But I'm not a huge fan of this feature and think a video doorbell's main purpose is to track package deliveries, which will cost $3/month with Ring, while it's free with Eufy.
Eufy
Eufy provides 14-days of cloud storage for free for all motion recordings. Unlike Ring, all Eufy's advertised features can be used without a subscription.
If you don't want your clips being stored in the cloud, you can buy an $8 MicroSD card.
Why do this?
With a MicroSD card, motion clips are recorded on the card and processed locally. Data doesn't go to the cloud. Your doorbell will work without the internet too. When the internet goes down, the clips get recorded on the card and are viewable once your internet is back up.
For those who are more privacy-conscious, Eufy makes more sense than Ring.
---
Software
Ring 1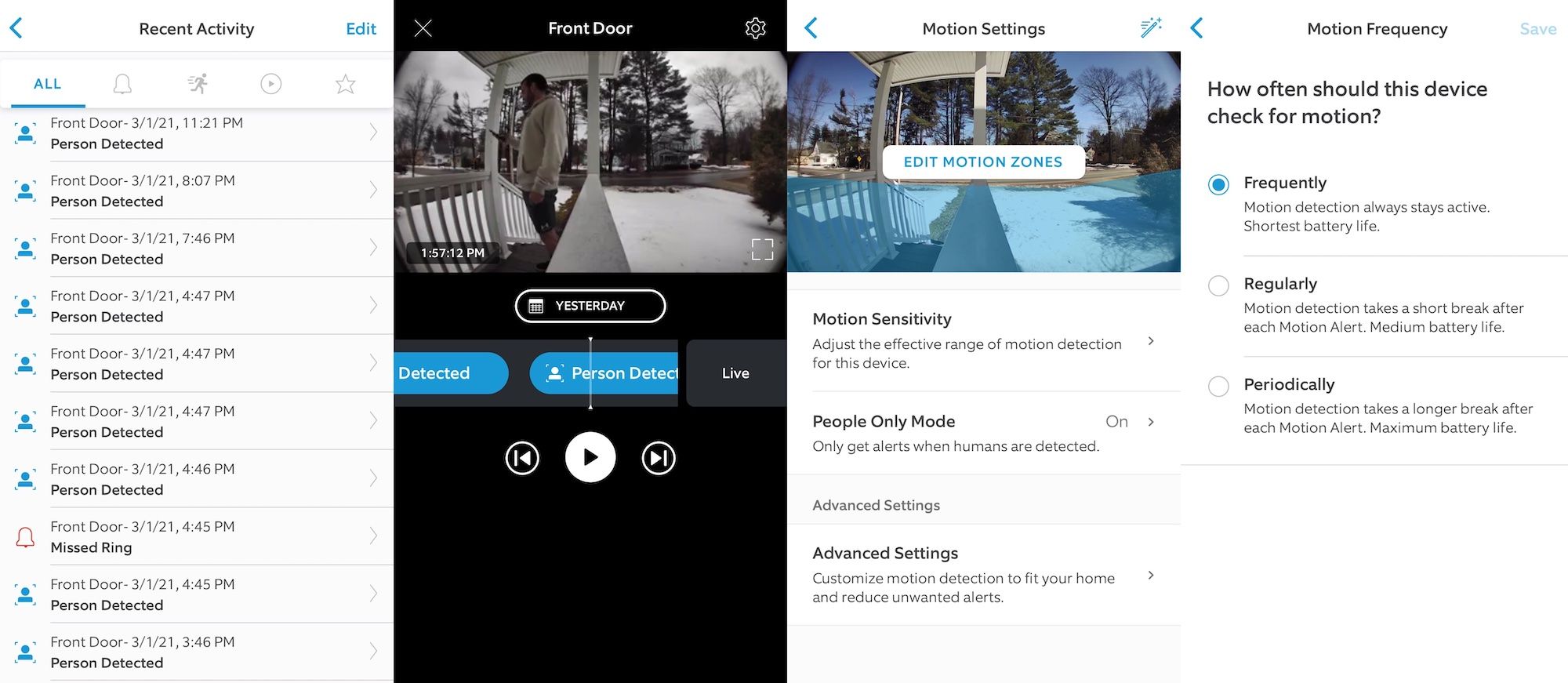 Ring has two interface options for viewing motion clips. There's a scrollable timeline and a text list of events. You can easily filter the results to find what you're looking for.
Ring has a web interface and desktop apps.
A live feed can be pulled up on Fire TV and Echo Show.
Ring works with Kevo Smart Lock, Lockitron, Kisi, ADT Pulse, LockState, Smartlink, WeMo smart switches, and Wink smart hubs. There are cool integrations with IFTTT and SmartThings too. Unfortunately, Ring and Eufy don't work with HomeKit.
Ring's "Neighbors Feed" alerts you of events that happen in your neighborhood, but I liked to keep this feature disabled.
Eufy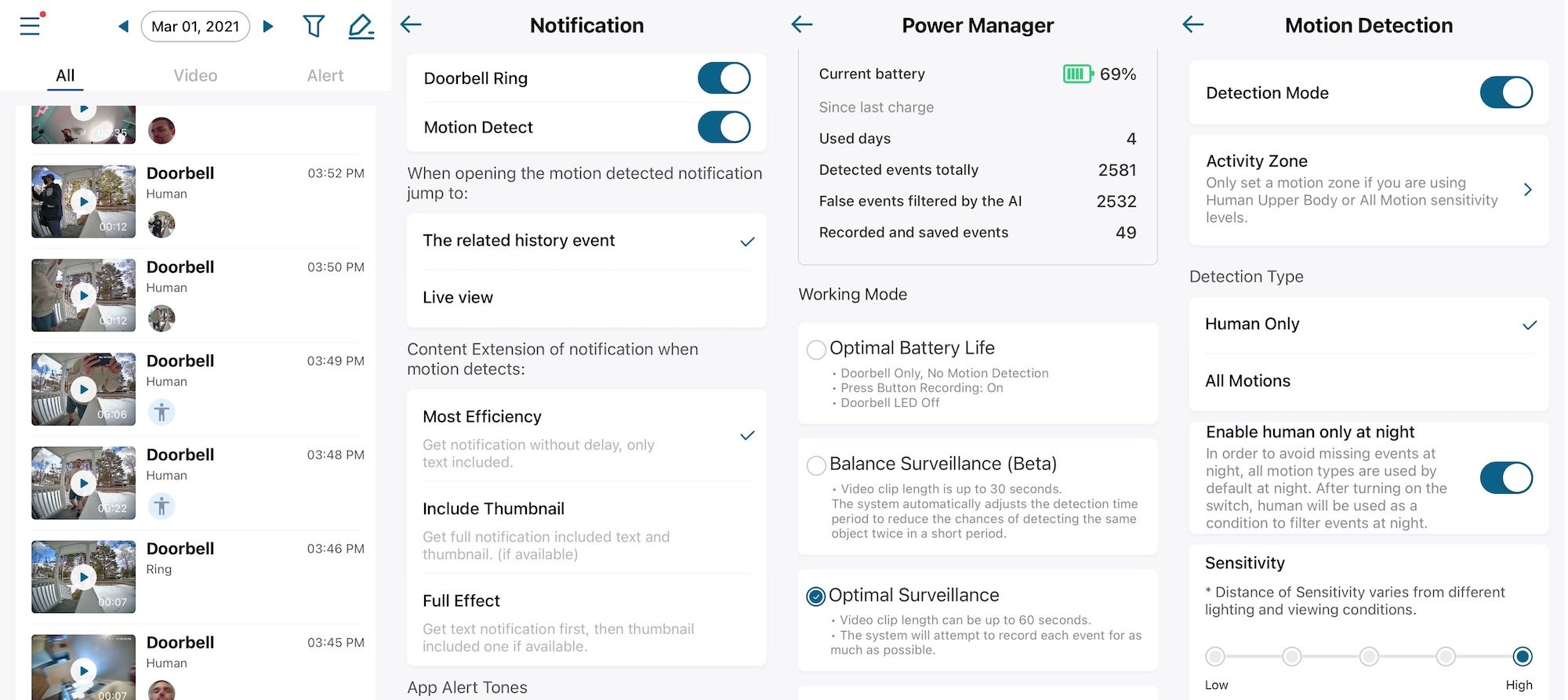 Eufy's app isn't as refined as Ring's because it has weird text formatting and grammar issues throughout, and it's just harder to navigate.
But I prefer how Eufy organizes the motion clips because it looks similar to the Arlo security cameras. The clips have big thumbnails and are easy to filter to find what you need.
Eufy has a web-based interface too.
Eufy doesn't offer as much smart home compatibility as Ring. It doesn't work with IFTTT or SmartThings.
A live feed can be brought up with an Echo Show or Fire TV. It'll work with Google Home Hub devices too, while Ring can't bring up a live feed on Google devices.
---
Reliability
Ring 1
Ring's motion detection notifications come in quicker than any doorbell I've tested. And the recordings tend to start earlier than Eufy's.
My front door faces a busy road. When I block off the street from my activity zone, Ring still records around 50 false alerts per day. Fortunately, I have "People Only Mode" enabled, so I only get alerted when people are at the door.
Ring won't record flawlessly with the default settings. But with the motion sensitivity at 75% and the frequency of recording set to "frequent," it does a great job. The downside is that the battery only lasts a few weeks with these settings.
If your door's not facing a road, you'll get a longer life, even with high sensitivity and frequency enabled.
If you don't have doorbell wires, you can't beat Ring 1's motion detection reliability day or night. But powered options like Ring Pro and Nest Hello are more reliable if 24/7 surveillance is important to you.
Eufy
In the Eufy app, if you choose to get a thumbnail in the notification, it'll take about four seconds to appear on your phone after the motion is detected. Without the thumbnail, it's about two seconds. Either way, these notifications are a bit slower than Ring's.
There were numerous times where recordings wouldn't trigger while I stood in front of Eufy. And the motion recording seemed to get worse at night time. But I figured out why after a couple of weeks. Eufy's motion detection radius is smaller than Ring's. It won't consistently record if the motion isn't perfecting in front of it.
The fix was simple. Eufy includes a 15-degree wedge that angles the doorbell inward, which points it in front of the walkway. The wedge was a necessity at my house and probably at yours too. As long as motion happens directly in front of the door it gets recorded.
With the "Optimal Surveillance" setting, sensitivity set to high, and the wedge, Eufy records almost everything. But I only got about a week of battery life because about 4,000 events per day were detected from passing cars. I created an activity zone that blocked out the road to remove false triggers, and it extended my battery life by another week. If you're near a road and want accurate recordings, expect about two weeks of battery.
Make sure to turn on "Human Only" mode to remove cars and other random objects from notifying you.
If you're not near a road, you'll get at least a couple of months of battery life.
---
Video Quality
Ring 1
Ring 1 shoots in 1080p with a 155-degree field of view, and it uses the traditional 16:9 aspect ratio.
Ring 1's video quality is fine. It's good enough to see what happened, which is all that matters. But due to its lack of HDR, it can be hard to make out faces on a bright day.
Although, Ring 1 does a better job of recording at night than Eufy.
Eufy
Eufy shoots in 1080p and has WDR, which preserves color and makes the picture look true to life. It uses a 4:3 aspect ratio, like Nest Hello. 4:3 makes more sense than 16:9 for video doorbells because the picture is taller so you can see your packages more easily.
Eufy's picture quality blows away Ring 1's. The HDR thrives on bright days, where the bright blue and greens are shown without sacrificing the clarity on the person's face.
Night time record is fine, but it's nothing special.
---
Video Calling
Ring 1
Ring 1 video calls go smoothly from both ends.
The video calls default to landscape mode in the app, but they can be viewed vertically after it starts in horizontal mode. Although, Ring is best in the default mode due to the 16:9 ratio.
Ring 1's speaker is volume and the volume is adjustable.
Eufy
The Ring and Eufy call experiences are about the same from the app end.
The call can be viewed with the phone vertical or horizontal position, which is great.
On the video doorbell end of the call, the mic is quiet and can't be adjusted. With loud cars in the background, it can be hard to hear, but it's usually fine.
---
Design
Ring 1
Ring 1 is the most well-constructed of all the Ring Doorbells. It is a single, solid piece with a metal front finish, and comes in silver or bronze. Just like Eufy, the battery in Ring 1 is not replaceable, so each time it needs to be charged, you will need to unmount it and bring it indoors. If you want a doorbell with a replaceable battery, consider the Ring 3 model.
Eufy
Eufy is available in a sleek black or white glossy finish. It is not as wide as the Ring brand, but it is slightly thicker. I prefer the look of Eufy because when motion is detected, the button lights up, making it easy to spot at night. It comes with a mounting bracket and a 15° wedge, which is essential for properly angling the device.
---
Which is best for you?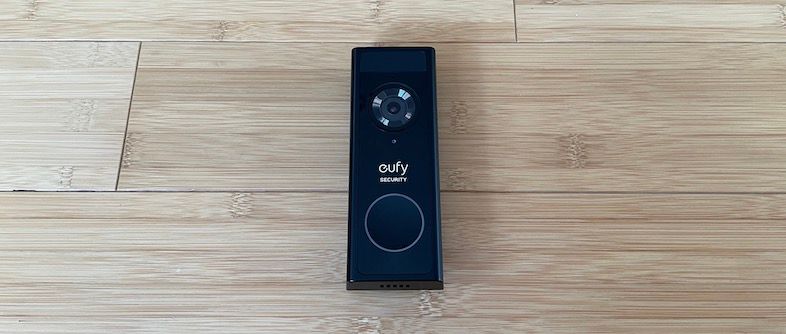 User-Friendliness (B)
Reliability (C+)
Design (B+)
Get Eufy if you want motion clips to be recorded and saved for free without the use of the cloud. Eufy provides better video quality too. The battery life should be good for a couple of months unless you're near a busy street where you'll only get two weeks of juice.
---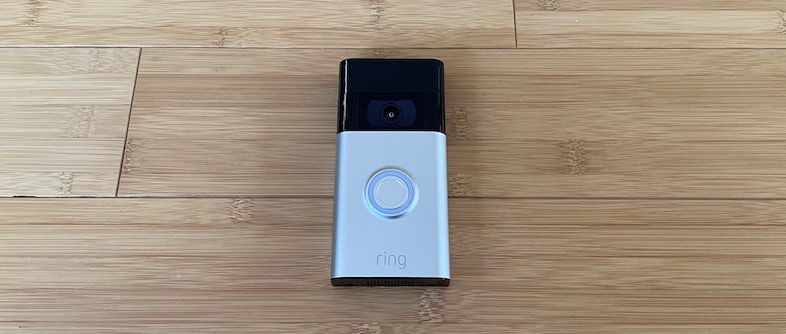 User-Friendliness (C+)
Reliability (B-)
Design (B)
Get Ring 1 if you want more accurate motion recordings and are willing to spend $3/month for them. The video quality isn't great during bright days, but it's good enough for a doorbell.
Cam's Choice
If I'm forced to choose a battery-powered doorbell, I'd choose Eufy every time. The local storage and no monthly payments are great. Eufy's motion recording is accurate enough for $100. Ring 1 provides slightly better motion detection than Eufy, but it's not as reliable as powered options like Ring Pro or Nest Hello (my comparison). If serious surveillance is your main concern, stay away from the battery-powered options.
---
Want support this blog? (affiliate disclosure)
I'm not affiliated with any of the products that I review on this blog. I always purchase them out of my own pocket to ensure that my reviews are unbiased. However, as an Amazon Affiliate, I earn a small commission (usually between 1-4%) on some purchases made through the links in my posts. These commissions help support my blog by allowing me to buy new products and produce reviews independently.