Nest Wifi vs. Orbi RBK50: Is The Older Google Wifi Better?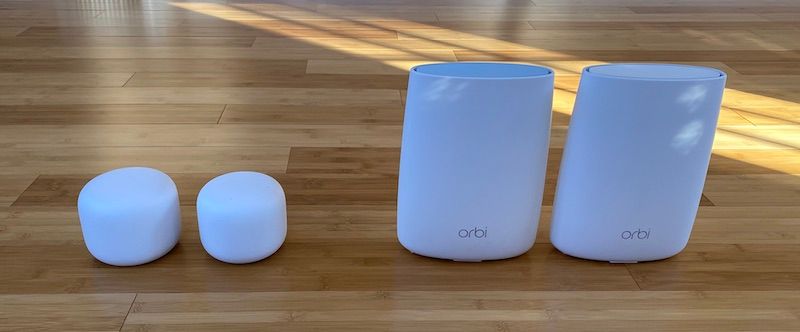 After two weeks of testing, I determined Netgear Orbi RBK50 is the better mesh system because of its superior performance. Nest Wifi shows promise but isn't ready for prime time due to performance issues.
Alternatively, the older Google Wifi is great for those who want a well rounded and intuitive system made by Google.
Want to learn how I reached this conclusion? Read on to see the detailed breakdown of user-friendliness, design, and performance that informed my overall impression.
Setup
Orbi RBK50
The RBK50 two-pack comes with one router that connects to your modem and one satellite that connects wirelessly to the router. Orbi's setup isn't as smooth as other mesh systems, but it's straightforward with the phone app and better than Google's setup.
Previously, I recommended getting the system up and running with the router first, then adding additional satellites to your working system after. It went against Orbi's suggestions, but I ran into fewer issues doing it this way. Orbi's tightened up the installation process so you should be fine following the instructions, but consider my suggestion if you run into issues.
I've installed Orbi more than five times. In my last install, I got two Orbi nodes up and running in eight minutes.
Nest Wifi
Nest Wifi and Google Wifi use different apps for the installation, but the process is similarly inconsistent. Both apps skip over simple steps, load slowly, and fail often.
You don't get progress bars as the routers are configuring. During long wait periods, it's unclear if the app is broken or if it's still configuring. (It's usually broken.)
Google doesn't tell you to unplug your modem before the install. Instead, your first installation will fail, then you get instructions to unplug the modem and retry.
I've installed Google Wifi six times and Nest Wifi three times. In my latest install, it took 20 minutes to get two Nest Wifi router nodes configured.
Software
Orbi RBK50
Summary: Orbi's phone app lacks a user-friendly interface, smart features and parental controls. It also has annoying ads and struggles to connect to the routers. On the bright side, Orbi is one of the few mesh systems to have a web-based interface, which gives power users full control over the network's configurations.
Features:
You can name the devices on your network and pause specific devices from your network at any time.
Orbi has a web-based interface option. If you've used any of Netgear's traditional routers, it's the same interface. You'll have options to customize anything and everything.
Orbi is the only mesh system that doesn't use or rely on the cloud by default. Your data won't leave your home and you don't need an internet connection to set up your network. (You'll still need an internet connection to access the internet.)
You can create a guest network.
Annoyances:
The communication delay between the routers and the app is brutal. When you open the app, more than half of the time, the app doesn't immediately sync with your network. You'll get a message that says "Router Not Set Up," but when you dismiss the message everything is running perfectly.
The app doesn't have parental controls. You can download the Disney Circle app for $5/month to integrate with your Orbi system, but parental controls are free with most mesh systems.
You can't prioritize which devices should get your resources in the app. You can edit the QoS settings in the web interface, but it was broken the last time I tried.
You can't edit basic port forwarding settings without the web-based interface.
The "Traffic Meter" shows your bandwidth used for the set week or month, but the interface is poorly designed and not customizable.
Orbi didn't optimize the app for enough screen sizes. It looks perfect on some phones but cuts off the screen on others.
Netgear partnered with Bitdefender and created a service called "Netgear Armor" for $70/year. The service helps protect you from phishing threats and warns you of bad sites. However, there are annoying ads for it that can't be avoided and the service itself blocked legitimate sites that I was trying to access. I don't recommend this service.
Nest Wifi
Summary: Nest Wifi uses the Google Home app. It has great parental controls, but it's more confusing and lacks features compared to the Google Wifi app. However, once Nest Wifi is installed, you can control it with the Google Wifi app. The Google Wifi app gives you port forwarding, a view that shows which node your devices are connected to, and a way to filter and view your total bandwidth usage.
Features:
You can name and rename the devices on your network.
You can see real-time bandwidth usage from each of your devices ranked in order of most bandwidth used.
Family WiFi lets you group devices together. You can turn on SafeSearch to block inappropriate content, create schedule access, or pause the group with one tap. Family WiFi is a must-have for parents who want to limit their kids' devices.
You can set up a guest network.
Annoyances:
The Google Home app is a more complex and watered-down version of the Google Wifi app, but you can use the Google Wifi app once your Nest Wifi network is up and running.
You'll need two apps for the full feature set. The Google Wifi app has:
Advanced configurations.
A view to show which node your devices are connected to.
A way to track your total bandwidth usage per day and you can filter it by day, week or month.
You can disable the Nest Wifi's reliance on the cloud, but your performance won't be as strong.
You need a Google account to install and operate the system.
Performance
Orbi RBK50
Summary: Orbi is the fastest mesh system reviewed on Power Moves. Orbi has three bands, one of which is a dedicated backhaul channel, that gives it a performance advantage over the competition. The nodes also have incredible range.
Single router testing:
I averaged 100Mbps with one Orbi RBK50 (using speedtest.net in ten designated locations in my house and backyard with a maximum ISP speed of 116Mbps).
It has a higher theoretical speed limit (AC3000) than any mesh system that I've tested. You'll be able to max out at 866Mbps on the 5 GHz channel.
Mesh router testing:
I averaged 115Mbps with two Orbi RBK50 nodes.
This configuration should comfortably cover 4,000 square feet according to my tests, while Netgear suggests it should cover 5,000 square feet.
Approach:
Orbi has a substantial advantage over Nest Wifi because each Orbi node has three wireless bands, while the Nest Wifi Router and Point only have two bands each.
Of Orbi's three bands, one of the bands is reserved for the "backhaul." The backhaul channel is used exclusively for the nodes on your network to communicate with each other. During my three years of mesh router testing, a dedicated backhaul channel seems to be the best strategy for maximizing speed.
Orbi should be more equipped to handle gigabit internet compared to Nest, but I can't test high end speeds with my relatively slow 117Mbps max.

Issues:
Relative to Nest, Orbi has rock-solid stability and most people won't have a problem. But there are two minor issues keeping it from topping Eero Pro (my top performer).
My phone's WiFi icon flickers when I move around the house. Orbi isn't as smooth as Eero when switching devices to a new node. Keep in mind that I'm a full-time reviewer who looks for these things, while most people won't notice the switching on any mesh system.
There were two nights when five of my friends and I were deep in the backyard and the internet stopped working. It seemed like the satellite node got overloaded with too many devices using it simultaneously.
Nest Wifi
Summary: Nest Wifi is insanely fast despite having just two bands, but I experienced two unrelated stability issues, separated by six months, with two Nest Wifi sets. Even if you go under the assumption that my stability issues were a fluke, Orbi still has a longer range and will perform faster on a gigabit internet connection.
Single router testing:
I averaged 102Mbps with one Nest Wifi Router (using speedtest.net in ten designated locations in my house and backyard with a maximum ISP speed of 116Mbps).
The Nest Wifi Router has an AC2200 rating, which is twice Google Wifi's theoretical bandwidth limit, and it has 25% more range.
If you're connected to the Nest Wifi Router on the 5 GHz channel, the maximum theoretical download speed is 1733Mbps, but it's closer to 866Mbps when in a mesh system. The 1733Mbps capability is deceiving because Nest only has two bands. Half of the resources are used for node-to-node communication, while the other half is for your devices.
The Nest Wifi Point has an AC1200 rating (same specs as Google Wifi).
Mesh router testing:
I averaged 111Mbps with one Nest Wifi Router with one Nest Wifi Point. This configuration should comfortably cover 3,000 square feet. Nest says it's good for up to 3,800 square feet. You'll see a drop off in speed when connected to the Point.
I averaged 114Mbps with two Nest Wifi Routers. This should cover about the same square footage as Orbi. Nest says it's good for 4,400 square feet. You'll notice similar speeds on either router.
Approach:
The Nest Wifi Router and Point are both dual-band routers. Nest said they decided against a three-band system because they didn't want to add another level of hardware cost, which is an interesting decision in 2020.
Nest Wifi does an impressive job covering up for its hardware limitations with software. It's the fastest dual-band system that I've ever tested. It outperforms Eero (non-Pro), Velop, and Deco on speed tests.
Nest Wifi doesn't have a dedicated backhaul channel because Nest Wifi only has two bands compared to Orbi's three.
Nest Wifi has "proactive band steering," which helps steer your devices to the proper channel to get optimal performance.
You can prioritize a device for one hour, two hours, or four hours. It's clutch if you're uploading, downloading, or streaming something important and have limited internet resources.
Issues:
In early 2020, I tested Nest Wifi (one Router and one Point) for two weeks. The Point slowly blinked orange and disconnected from the Router three different times. I had to manually unplug and reboot because the Point couldn't connect to the app to reboot.
For this post, I bought two Routers because I was convinced my issues were exclusive to the Point. Plus, this gave Nest six months to crush the bugs to improve the stability. Unfortunately, I ran into different issues this time. The two nodes stayed connected perfectly, but I had ten occasions where my internet cut out for a few minutes. If toggled the WiFi off and on, on my MacBook, the network would usually come back faster.
During both testing sessions, my speeds were often slower than they should've been, during random tests, despite the app showing a "great connection" between the two nodes. I counted five times that my network was running at 10Mbps.
I tried a factory reset, changing the node placement, and toggling the cloud services on and off. Nothing worked. And surprisingly, I ran into cutouts using just one Nest node too.
I've searched Reddit and Amazon for hours to find answers. There are two Reddit threads (more than 50 combined upvotes) with users experiencing similar issues. It's theorized that the current firmware version 12871.57.12 is the culprit.
Even when factoring in Reddit, the Nest Wifi reviews around the web are relatively positive. Use my two experiences as a part of your research rather than conclusive evidence that Nest Wifi won't work for you. Three theories:
I got two defective Nest Wifi sets. (Very improbable.)
I'm prone to notice cutouts more than the average person because I work from home and spend 12 hours per day on the internet. (Improbable.)
There's a compatibility issue with firmware version 12871.57.12 and my modem model (or ISP). (Less improbable.)
Personal experience: I was rooting for Nest to perform well in my second round of testing. I wanted to keep it as my primary system because Google Wifi is great and this is just an upgrade. Nest was consistently bad. I couldn't wait to finish testing for this post, so that I could go back to the reliable internet. Nest's issues should be fixed with software updates, but how long do you want to wait? Nest was released ten months ago.
Design
Orbi RBK50
Orbi nodes are ugly and consume lots of space (8.9″ x 6.7″ x 3.1″). Orbi is two times taller and twice as wide as Nest Wifi's compact design.
Orbi is built for the nerds. The main router has three Ethernet ports and a USB port, while the satellite has four Ethernet ports. The two-piece RBK50 set has seven available ports for hubs, base stations, and hardwiring devices.
Nest Wifi
Nest Wifi Routers have a diameter of 4.3" and stand 3.6" tall. They're well-designed and won't be a distraction due to their tiny footprint. The Routers have an attractive white matte finish, while the Points come in white, mist, and sand.
The Nest Wifi two Router set, gives you three Ethernet ports to work with. If you buy any Nest Wifi set with Points, you'll get a built-in speaker and mic that listens for the wake word ("Hey Google") on the Point, but you'll have just one Ethernet port.
Which is best for you?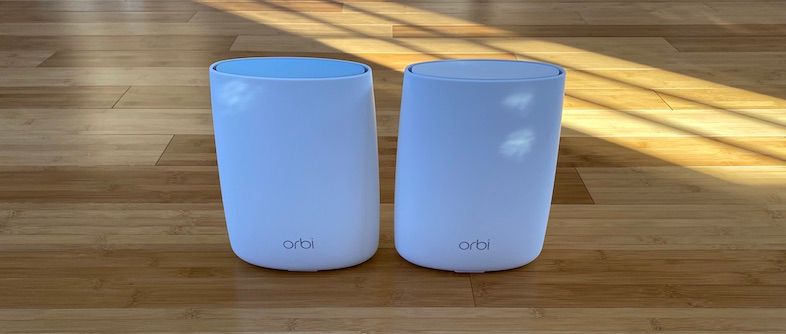 User-Friendliness (C-)
Performance (A)
Design (B)
Get Orbi RBK50 if you want the best pure speed from any mesh system tested on Power Moves. Orbi has seven Ethernet ports and an advanced web-based interface. Unfortunately, Orbi routers are gigantic, the phone app isn't intuitive and it lacks smart features.
---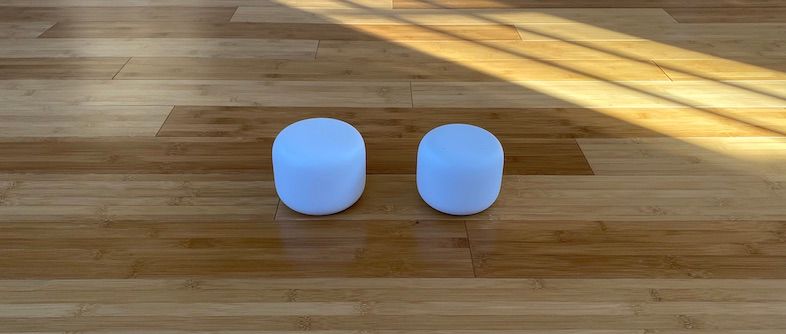 User-Friendliness (B-)
Performance (C)
Design (A-)
Get Nest Wifi if you want a user-friendly app with parental controls and a bandwidth usage interface. In my experience, the nodes don't stay connected well and the internet cuts out frequently, so you'll take a chance now, but this will get fixed with updates.
---
Choosing the right configuration
Nest's standard two-piece set comes with a Nest Wifi "Router" and Nest Wifi "Point." The Point has a speaker, mic, and Google Assistant built-in. It sounds great in theory, but I'd avoid it because the Point has slower performance, no Ethernet ports, no wired backhaul option, and what are the odds that there's an optimal position for network performance and a speaker in your house?
If you want Nest Wifi, I recommended the Amazon exclusive package of two Nest Wifi Routers. It's a faster system with more range and ports.
Nest Wifi is an upgrade from Google Wifi on the spec sheet, but Google Wifi is more stable, refined, affordable, and it has one great app for all its features. The Google Wifi three-pack will make a lot of people happy because lesser specs and speed are harder to notice in real life.
I've tested two Orbi systems, but Orbi's RBK50 two-pack is the only one that I recommend. It provides the best value and should cover most homes (5,000 square feet).
Lastly, Eero Pro has similar performance compared to Orbi, but it has a first-class app with amazing parental control and customizability. The best of all the worlds.
See my comparison of Nest Wifi vs. Eero Pro or Orbi RBK50 vs. Eero Pro